Dear Dharma friends,
We sincerely invite you to take part in the following Dharma Assemblies which will be held at Gold Buddha Monastery in the second half of the year.
8/4 – Water Repentance
8/7 ~ 8/30 – Earth Store Sutra Recitation (2 recitations daily at 8am & 1pm) [ POSTER ]
8/25 – Liberation of life (10am)
8/31 – Transmission of 3 Refugees and 5 Precepts [ POSTER ] & Transmission of Precepts for the Deceased [ POSTER ]
9/2 ~ 9/10 – Emperor Liang's Jeweled Repentance [ POSTER ]
If you wish to participate and require lodging, please contact us in advance to make arrangements.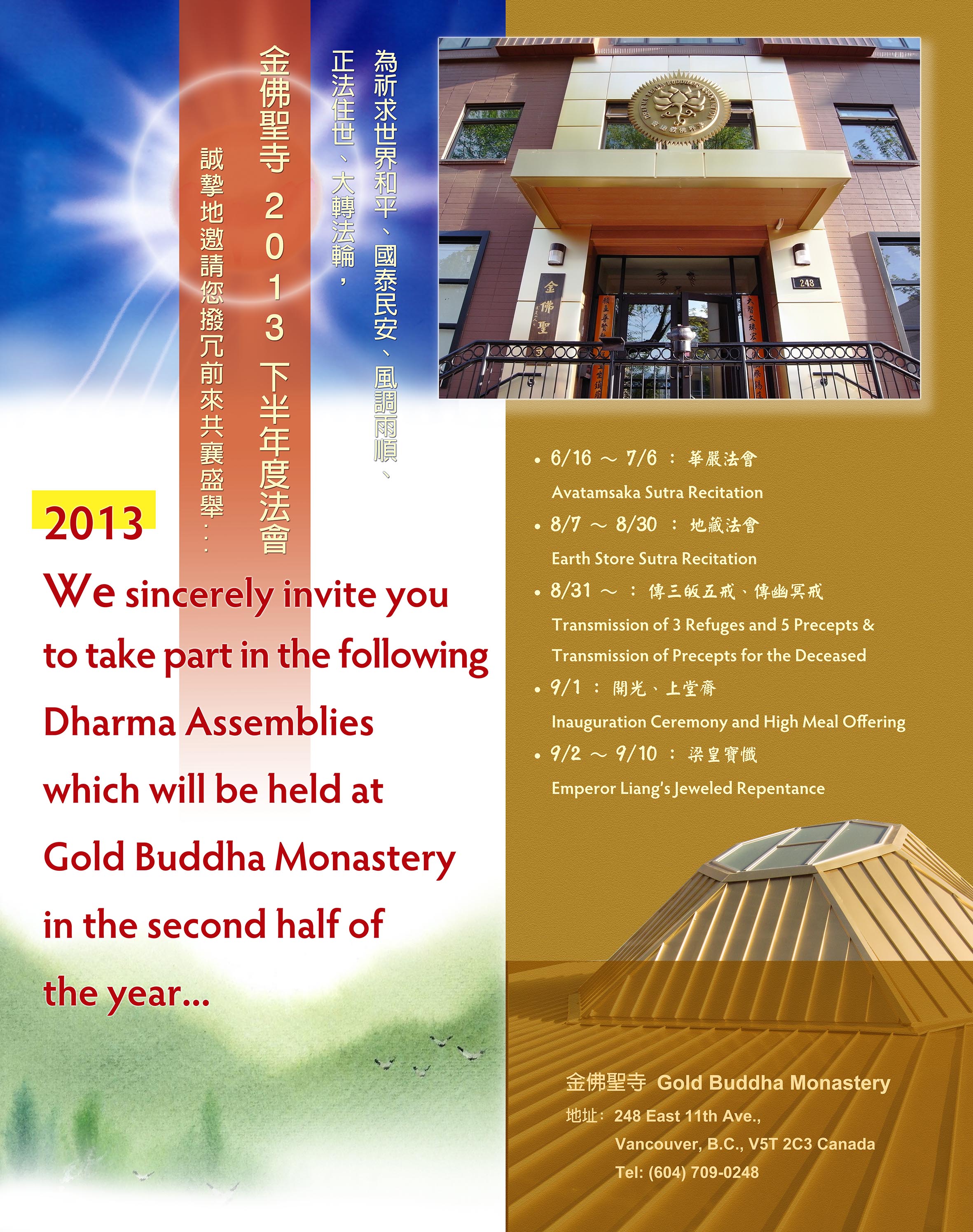 Invitation to the Inauguration Ceremony at Gold Buddha Monastery
Gold Buddha Monastery, located in Vancouver, Canada will celebrate the completion of its 10,000 Buddha Hall at the end of August, after more than two years of construction. As part of the inaugration of the Vairochana Buddha statue, Gold Buddha Monastery will hold a series of events:
August 31st (Saturday) afternoon: Transmission of the three refuges and five precepts. In the evening, Reverend Heng Sure will host the ceremony for transmitting precepts for the deceased. This is a ceremony for those who wish to take precepts on behalf of their deceased relatives and friends, so that they may also plant seeds of the Jeweled Vajra precepts life after life. This ceremony is beneficial for both the living and the deceased. After the ceremony, Dharma Masters will give talks on the dharma.
September 1st (Sunday): Dragon and Lion Dances by members of the Boys' Developing Virtue High School and Gold Buddha Monastery's Taiko Drumming group will open the day. After that a High Meal Offering Ceremony will commence. The ceremony is a formal request for the Dharma host to speak Dharma. The Venerable Master had said, "This kind of ceremony is very important to the monastery. Members of the fourfold assembly who live in the monastery must attend this ceremony. A billboard will post the talks given for one and half months or a week … The high meal offering is held in a lively setting; the drum and bell are played and then Dharma is spoken for those who make the request." This ceremony will be the first held in North America after the Venerable Master's entering nirvana, so there's profound meaning in this.
Sept. 2nd – Sept, 10th: Emperor Liang's Jeweled Repentance, We welcome all, old and new, to attend.
Gold Buddha Monastery sincerely invites all of you to attend these activities mentioned above.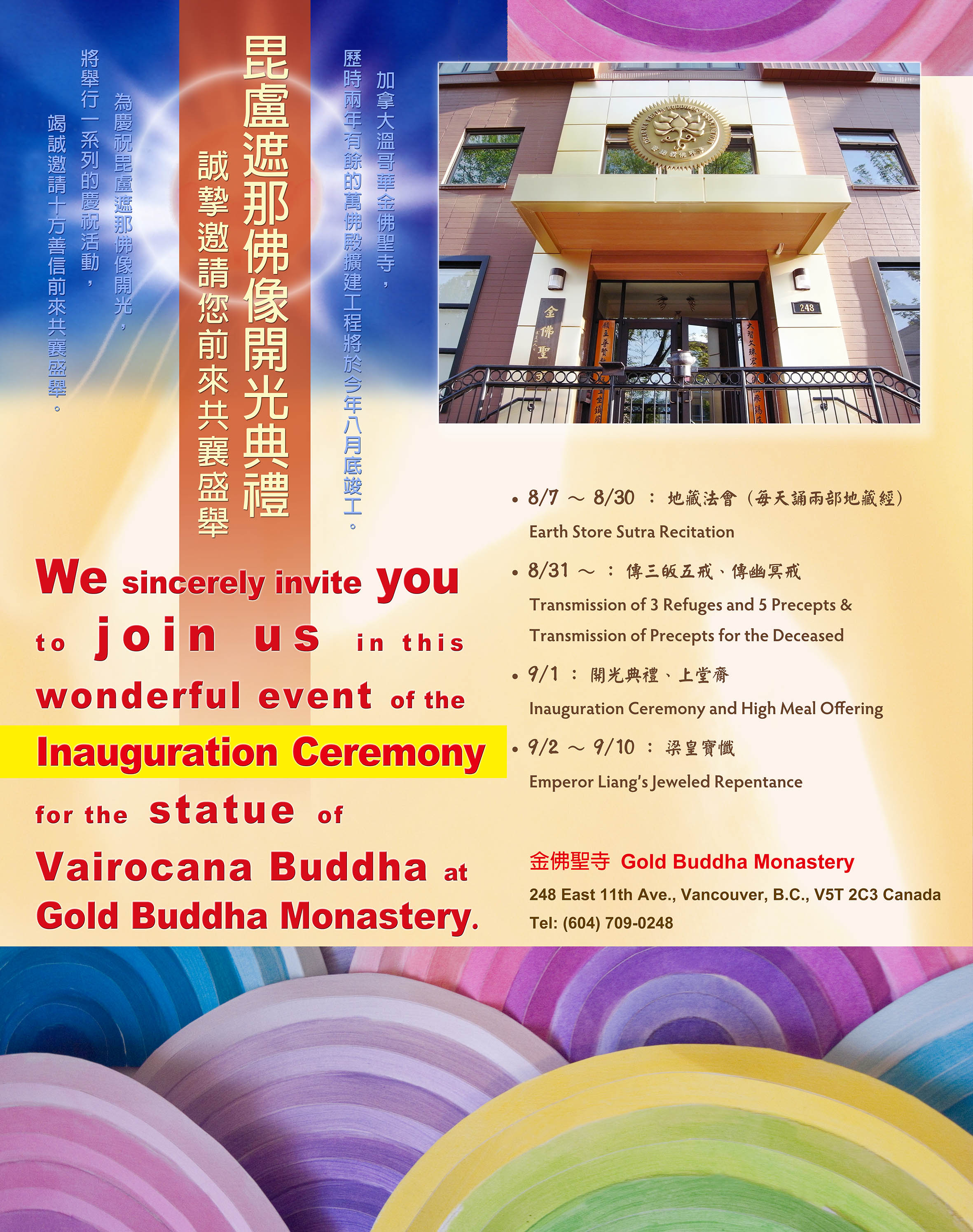 ---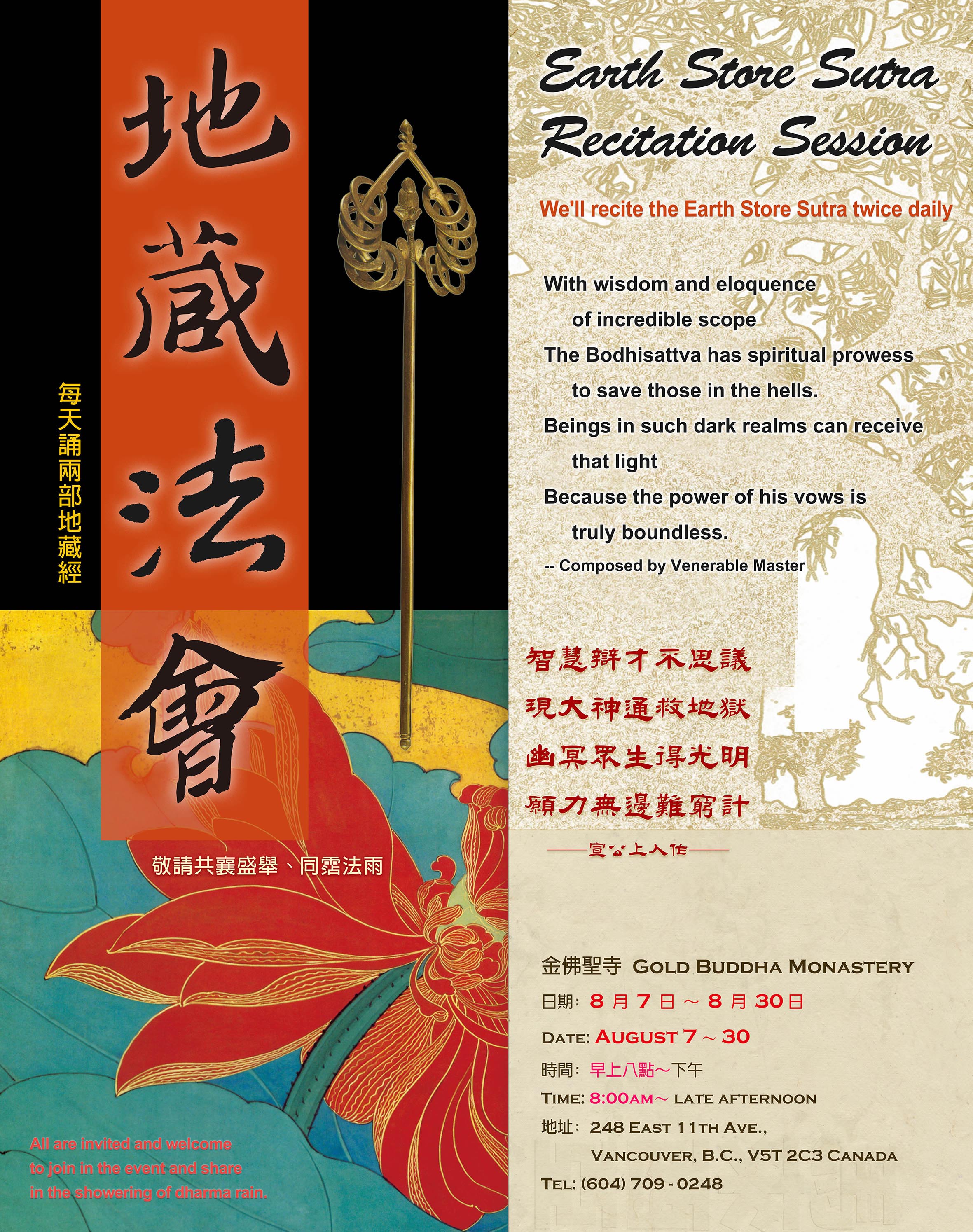 ---
Precepts for the Deceased: An Inconceivable Dharma Door
Taking the Precepts for the Deceased is an act of great filial respect. People who recite the Earth Store Sutra ought to know this. We're here in the yang (positive energy) realm but when people die they leave the yang realm. And their intermediate body are in purgatory, and it can be called the realm of King Yama. Sometimes King Yama does not immediately determine a soul's next rebirth, and so it remains in the underworld. ( Continue reading )
---