Emperor Liang's Jeweled Repentance
Emperor Liang's Jeweled Repentance
To pray for world peace, countries' peace and prosperity, favorable weather conditions,
proper Dharma to exist and the turning of the Dharma wheel, Gold Buddha Monastery will host the Emperor Liang's Repentance Ceremony. This is a great Dharma event to pray for the eradication of calamities and an increase in blessings. All are invited and welcome to join in the event and share in the showering of dharma rain.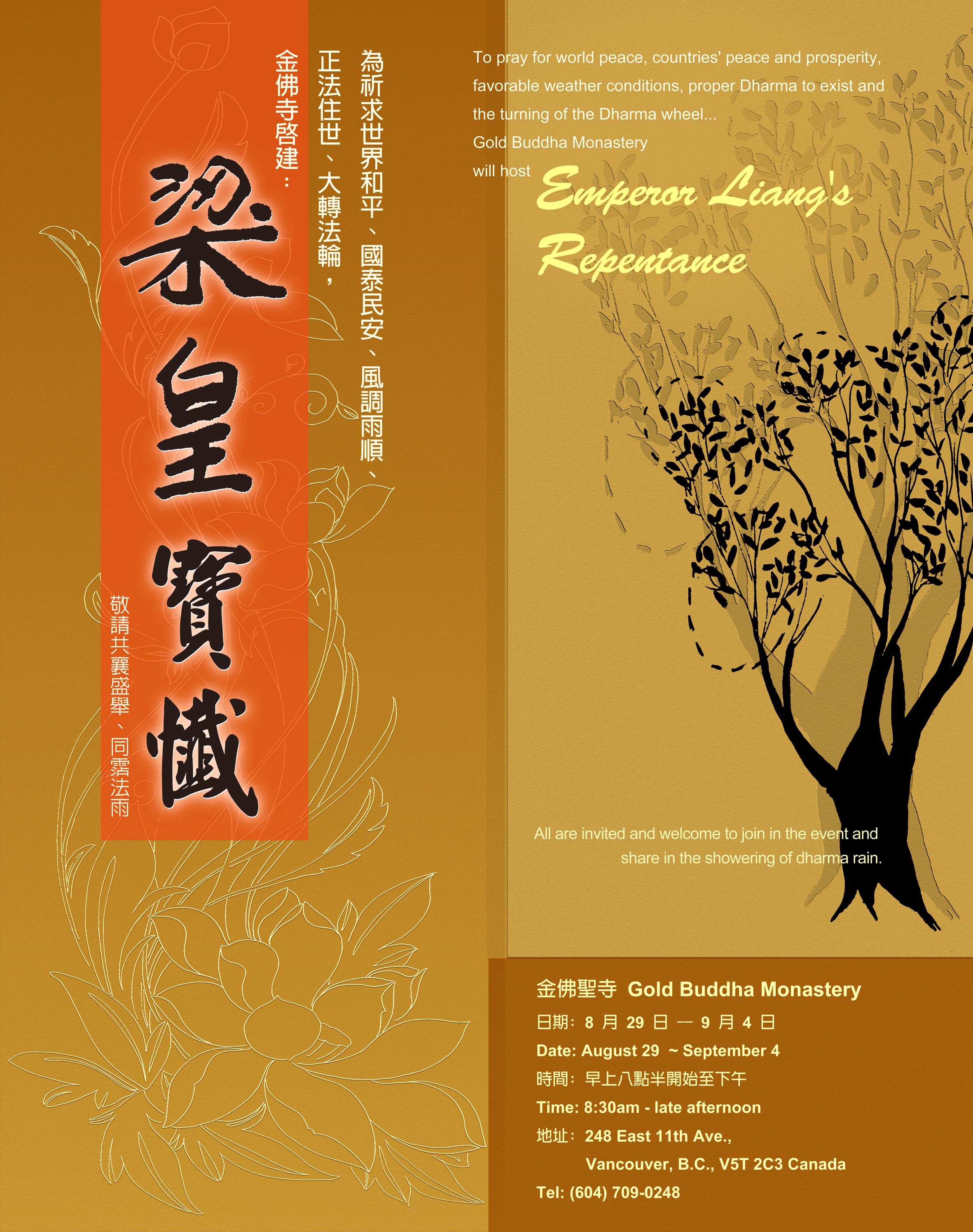 Emperor Liang's Jeweled Repentance
A talk by the Venerable Master Hsuan Hua
Emperor Wu of Liang Dynasty was a Buddhist and always made offerings to the Triple Jewel. One of his wives, Lady Chi didn't believe in the Triple Jewel – the Buddha, the Dharma or the Sangha. Because of that, she was reborn as a python and came back to ask Emperor Liang to rescue her. She said, "Do you remember who I am? I was your wife, Chi Hui. Because I didn't believe in nor did I respect the Triple Jewel, I fell to the animal realm and was reborn a python." Emperor Wu requested Chan Master Bao Zhi to cross her over. Actually, when Lady Chi was alive, she opposed Master Bao Zhi. It wasn't until after her death and being reborn as a python, did she bow in repentance to him.
Chan Master Bao Zhi complied what we know today as the "Emperor Liang's Jeweled Repentance", for Emperor Wu to bow this repentance for his wife. The merit and virtue from bowing this repentance helped Lady Chi attain liberation from her python body and she was reborn in the heavens.